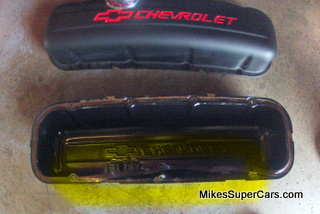 So... The new Supercharged 67 Firebird/Camaro developed an oil leak. Surprising for a new build... Most rodders seem to accept small leaks as normal, but I'm way to anal. After a little looking, and tracing, it was apparent the leak was coming from the top of the driver's side valve cover, so i ordered a set of SCE AccuSeal Pro gaskets.
Today, I had my friend Matt, from J&K Automotive in Camarillo, pull the valve cover and replace the gasket. The image shows the leaking valve cover upside down. You will note around the yellow highlight two issues: 1) they used cheap cork gaskets on assembly. Sure, these cork gaskets were in the industry and used for years, but now we have synthetics, and more knowledge! and 2) you will note the gasket is not set properly and has fallen into the cover.
Here is the Engine with the valve cover removed.
Sweet! roller rockers :)
Here is the engine looking back at Matt (Right)
while he is working on this project.
Mike is on the left - he is a service writer for J&K.
Let me take a moment and tell you about the new technology on valve cover gaskets... These AccuSeal Pro valve cover gaskets feature one-piece, molded silicone rubber engineered to resist heat and seal irregularities in sealing surfaces. Plus, each gasket has built-in crush limiters to prevent damage from over-tightening. Do you have cast covers, sheet metal covers, or an application with severe vibration? Use SCE super-tough steel core AccuSeal Pro gaskets and you won't have to change them every round! Get the sealing power needed for the top performance of your race or street engine with SCE AccuSeal Pro gaskets.
Note these hold there form, so there is no way the gasket would flop into the cover like the cork gasket did!
Engine is now DRY and running good!
A few more dress up items should be here this week....
Attending
See us live and in person
Mike's
News
Latest News from Mike